You are not logged in to Prodigits. Please register or login.
UrdUMaG - Topics
---
Subject: ~!! Hapi B'Day @Miiaa00 !!~
Replies: 64 Views: 15748

i_am_ur 21.07.11 - 04:56pm
Assalam 0 Alaikum @UM
*




G janab! mujhay mail aai thi Netl0g k thr0w tht 2 Din bahd kisi ki B'Day hy! .. bz tha bah0t ic liye s0ry 4 late creating!!
*
@UM ki piyari member @Zainab (Biillii Miiaa00) ka ab se theek atleast 3 hrz bahd Janam Din hy! itz 22nd f July!

**



!!!!!!!!!!!!!!!!!!

I @Ali naraz nhi h00n! bas* aisay hi th0ra m00dy se h0 giya tha ! jaisay hi pta chala k Tum burhaapay ki janib 1 aur qadam barha rahi h0 s0 s0cha Q na sab k0 btaya jahay! L0l


**

HAPI B'DAY N MANAY MANY HAPI RETURNZ F DA DAY!

Hamesha Khush Rah0, Aabad Rah0
. kiya d00n ? kiya l0 gi ?? haan but kabhi Naraz nhi h0na pleasH !!
**




!!!!!!!!!!!!!!!!!!!!!

May You Have All the Joy Your Heart can Hold,
All the Smiles a Day Can Bring,
All the Blessings a Life can Unfold,
May You Have God's Best in Everything. (aamin)
**



*

i_am_ur 21.07.11 - 05:04pm
ye kuch Cakez hain . Hum nahi h0ngay , tum nahi h0 gi aur jab b yahan aa0 gi Humari yaad dilatay rahain gay!!
**
___

**
____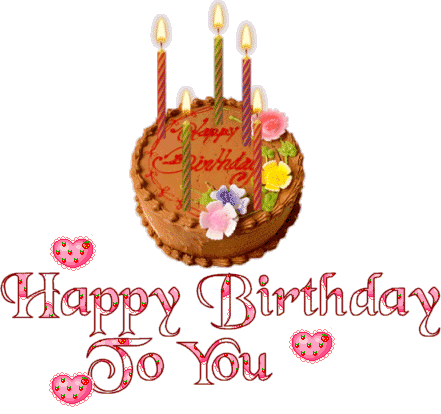 **
____

**
(Kafi h0ngayyyyyyyyyyyy na ??)
*** *

acmi 21.07.11 - 05:14pm
As_salam_0_alaikum UrduMag.
As_salam_0_alaikum zainab sis.

Khuda kary aap ik pal b udaas na hon,
kisi gham ka saya aap k pas na ho,
kabhi na kam hon aap ki khushiyun ka khazana,
kabhi na bhulen aap k lab muskurana.AMEEN

HAPPY BIRTHDAY TO YOU zainb sister... *

i_am_ur 21.07.11 - 05:17pm
Party sharty kab d0 giiiiiiiiiiiiiiiiiiiiiiiiii ??
*

kanval 21.07.11 - 05:22pm
Happy brthdy zainb
n many many returnz f the day. *

irs_shah 21.07.11 - 05:26pm
happy b.day zainab
Dear may u hv many more ..
Allah always bless u .. May ur all dreamz c*m true.. Ameen
Sada khush rahen .. Aur aise bht saray b.day ap clbr8 krte raho muskrahat k sath.. Again
Happy birthday DEAR:)) *

01awan01 21.07.11 - 05:32pm
wishing u a v v v happy life always b happy like tis

happy birthday zainab sis I trust that the Lord will grace u with many more till His purpose for u is c*m into fruition
Ameen


*


---
---

Bookmarks

---
UrdUMaG (8)
Custom Search